ARTUR ZMIJEWSKI
Født 1966 i Warszawa, Polen. Bor og arbejder i Warszawa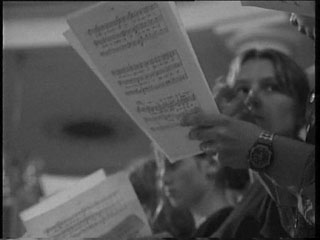 Artur Zmijewski, "Singing Lesson 1" (Sangtime 1) (video still), 2001. © Foksal Gallery Foundation, Warsawa
Uddannelse
1990-95
Faculty of Sculpture, Academy of Fine Arts, Warsawa, Polen
1999
Gerrit Rietveld Academie, Amsterdam, Holland
Udvalgte soloudstillinger
2004
MIT List Visual Arts Center, Boston, USA
2003
So genannte Wellen und andere Phänomene des Geistes, Kunstverein Düsseldorf, Tyskland (med Pawel Althamer)
Singing Lesson 1 / Singing Lesson 2, Foksal Gallery Foundation, Warszawa, Polen
Singing Lesson, Arsenal Gallery, Bialystok, Polen
Singing Lesson 2, Galerie für Zeitgenössische Kunst Leipzig, Tyskland
2002
An Eye for An Eye, Galerie Peter Kilchmann, Zürich, Schweiz
Singing Lesson, Collective Gallery, Dublin, Irland
2001
Out for a Walk, Foksal Gallery, Warszawa, Polen
KR WP, a.r.t. Gallery, Plock, Polen
2000
The Game of Tag, a.r.t. Gallery, Plock, Polen
Udvalgte gruppeudstillinger
2003
Artfocus 4, International Biennale of Contemporary Art, Jerusalem, Israel
Phalanstere, Centre d'art contemporain de Bretigny, Bretigny-Sur-Orge, Frankrig
Des/fragmentar, MUCA Roma, Mexico City og ITESO, Guadalajara, Mexico
Hidden in a Daylight, Cieszyn, Polen
Interior Secrets of the Body, The Ludwig Museum, Budapest, Ungarn
Die Aufgabe der Zeit, Westfalisher Kunstverein, Münster, Tyskland
red, rad i rod, Kulturni Centrar Beograda, Beograd, Serbien
2002
Manifesta 4, Städelisches Kunstinstitut, Frankfurt am Main, Tyskland
2000
Milano Europa 2000, Triennale di Milano, Palazzo della Triennale, Italien
in freiheit/endlich, Polnische Kunst nach 1989, Kunsthalle Baden-Baden, Tyskland
1999
Art after the Wall, Moderna Museet, Stockholm, Sverige
Can you hear me?, 2nd Ars Baltica Triennale of Photographic Art, Stadtgalerie, Kiel, Tyskland
Udvalgt bibliografi
Abbild: Recent Portraiture and Depiction, Graz: Landesmuseum Joanneum, 2001.
After the Wall: Art and Culture in Post-Communist Europe, Stockholm: Moderna Museet, 1999.
Can You Hear Me? Second Ars Baltica Triennal of Photographic Art, Octagon 1999.
Germinations X, Athens School of Fine Arts: The Factory, 1998.
An Eye For An Eye, Warsaw: Centre For Contemporary Art – Ujazdowski Castle, 1998.
Bidrag: Deltager i Station 2: Århus Kunstbygning, Århus med "Singing Lesson 1" (Sangtime 1), 2001. Video, 14. min. og "Our Songbook" (Vores sangbog), 2003. Video, 13:40 min. Courtesy Foksal Gallery Foundation, Warszawa.